Being a pelagic migratory fish, tarpon are only available to fish at certain times of the year. Once our waters start to hit the magic 75-degree range (usually starting in May) the Silver Kings are here! The Forgotten Coast has some of Florida's most pristine flats, most of which have remained untouched and unaltered by land development. This is a great place to see what Florida was like 30 years ago. Protected by surrounding state parks, the Forgotten Coast has been able to maintain its natural state, making this area a hotspot for Tarpon and numerous other species. The emerald water will make cruisers and rollers very visible, which makes the entire experience visual and heart pounding. As soon as you get tight with this prehistoric fish, get ready for the ride of your life as well as a new addiction!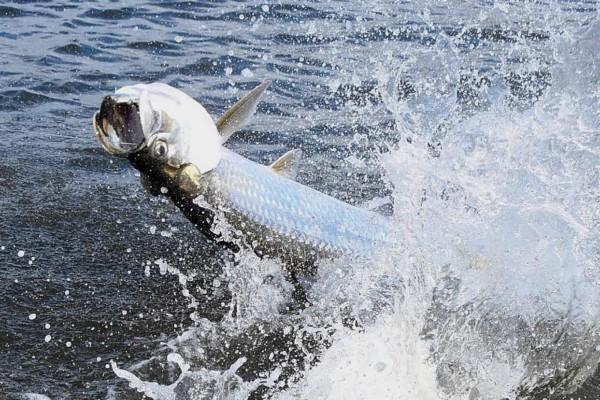 Recommended Fishing Gear:
Level of difficulty on fly: Intermediate to Expert
10 to 11 weight fly rods with clear floating and clear sink-tip fly lines. 12 weight is optional, but great to have on that windy day for a little more punch with a floating line, sink tip and especially with an intermediate line to cut through the wind.
Leaders for Tarpon:
The standard big game leader with #15 to 204 class tippet. I tie my tarpon leaders Including the 5' - 6' butt section, from 9' to as long as 14'. If you are not interested in using an IGFA (International Game Fish Association) leader we can make adjustments.
Leader Material & Construction:
#60 - #50 fluorocarbon for the 5 to 7-foot butt section. I use #15 - #20, 18" class tippet and fluorocarbon for the 30" bite tippet.
Tarpon Flies:
My tarpon flies are mostly tied in the non-fouling splayed tail, baitfish, toad style, and roach style with lots of colors and weight variations.
If you choose to tie your own, you should tie both light and dark patterns with hook sizes ranging from 1-0 for clear water conditions to 3-0 for dirty water conditions. You should also check with me first to get a good idea of what patterns to tie!